Hill Valley in 2015 | Back to the Future 2 | Back to the Future 3 |
Back to the Future...The Ride | Back to the Future 4 | Back to the Future 5 | Blast from the Past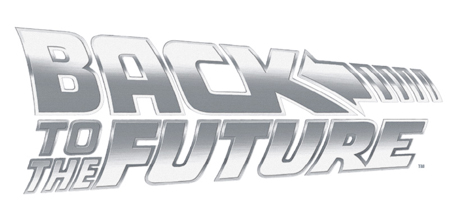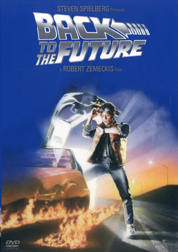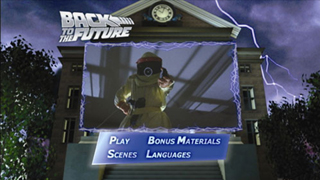 The Making of Back to the Future
Take a rare look behind-the-scenes of the making of Back to the Future in a featurette created in 1985,
featuring Michael J. Fox, writer/director Robert Zemeckis, writer/producer Bob Gale and special cameo
appearances including executive producer Steven Spielberg and musician Huey Lewis.


Making the Trilogy: Chapter 1
A unique look back at the making of the film with insights into the multi dimensional family interaction
and casting choices, featuring Michael J. Fox, Robert Zemeckis and Bob Gale.
Ouattakes
Hilarious flubs, bloopers and antics from the set.
Candid Q&A With Director Robert Zemeckis and Producer Bob Gale.
Enhanced Coversation with Michael J. Fox
A unique opportunity to see Michael J. Fox as he discusses Back to the Future.
Feature Commentary With Producers Bob Gale and Neil Canton
Did You Know That? Universal Animated Anecdotes
Watch the feature film and see notes on over 150 fascinating facts, trivia, and mistakes
Deleted Scenes with Commentary By Producer Bob Gale
Original Make-up Tests
See the original make-up tests for the elad characters: Doc Brown, Marty's Mom Lorraine and Nemesis
Biff.
Deleted Scenes with Commentary By Producer Bob Gale
Production Archives
Interactive environment enables viewing of hundreds of production photographs, original storyboards,
conceptual art and props used in the film, including:
Marty McFly's Photo Album
Behind-the-scenes Photographs
The Delorean Designs
Time Travel Designs
Excerpts from the Original Screenplay
Theatrical Trailer
DVD-ROM Features With Total Axcess Including The Original Script
Exclusive behind-the-scenes details, interview excerpts and more
Michael J. Fox Foundation For Parkinson's Research