Hill Valley in 2015 | Back to the Future 2 | Back to the Future 3 | Back to the Future...The Ride | Back to the Future 4 | Back to the Future 5 | Blast from the Past | BTTF Trading Cards
Welcome to the Back to the Future Section. Here you will find the script for Back to the Future divided into 20 pages based on their scenes. They include pictures and interesting facts about the film. You will also find screencaps from every deleted scene from the movie, as well as some information about the DVDs. You can access these by using the Navigation Bar on the right.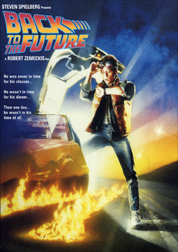 Marty McFly just broke the time barrier. He's only got one week to get it fixed.
The Year is 1985 - but not for long. Because teenager Marty McFly (Michael J. Fox) is about to be blasted back to 1955 aboard the plutonium-powered DeLorean created by eccentric genius Doc Emmett L. Brown (Christpoher Lloyd). But when Marty accidentally keeps his parents-to-be from falling in love, it triggers a time-shattering chain reaction that could vaporize his future - and leave him trapped in the past. Now, Marty's only hope is to change history - before the clock runs out on his one-in-a-million chance to get himself Back to the Future.